India is amongst the top travel destinations in the world. The country, fondly known as 'Incredible India,' is a beautiful place for adventurers, with diverse geographies. Magnificent beaches to scenic sand dunes and ice-covered mountain ranges, India has all what your enthralling heart wants.
Besides other adventures, you can enjoy the excitement of skiing in India's best-suited places. Here's a compilation of the 15 best skiing destinations in India.
Also Read: Why Should Sikkim Be on Your Travel List?
Kufri, Himachal Pradesh
Kufri, in Himachal Pradesh, is a short distance from Shimla. During the winter, Kufri becomes a hive of activity and delight. Skiing is a prominent sport in the area, and every February, the town conducts a winter sports festival.
The place offers both skiing training and facilities. Kufri is one of the best spots in India to go skiing since the slopes are mild and smooth, making it more straightforward for beginners to keep up.
Tobogganing, which involves sliding down a hill on a sled, is another option. The Himachal Pradesh travel and tourism department hosts a winter sports festival every year.
Pahalgam, Jammu and Kashmir
It is a lovely hill station and a major tourist attraction in the Jammu and Kashmir Valley's Anantnag district. Pahalgam is a place that never fails to mesmerize the tourists with its unspoiled and stunning natural beauty.
Nestled on the banks of the Liddar River and surrounded by lush greenery and enticing Himalayan Mountain ranges, Pahalgam is a popular destination for adventure sports such as hiking, trekking, and fishing.
Pahalgam is one of India's top ski resorts, with stunning vistas of the surrounding snowy landscape. It is also popular among Indian and foreign hikers, adventure seekers, and environment lovers due to the abundance of winter sports such as snowboarding and rafting.
Patnitop, Jammu and Kashmir
Patnitop is another lovely location that attracts adventurers during the winter months with its thrilling skiing opportunities. You may also take a course here to learn the sport. But, if you're an expert, just grab your board and head to Patnitop's small and mild slopes for a fun-filled adventure.
It's an excellent site for beginners, but if you're searching for more tough climbs, travel to Madha Top, which is 6 km away from Patnitop.
Gulmarg, Jammu and Kashmir
Few destinations in India offer a more enjoyable experience than Gulmarg when it comes to skiing. Since the ski terrain here necessitates good skills wherever you go, advanced and expert terrains are grouped together. The difference between an advanced and expert line can be a handful of meters left or right.
If you want to go skiing in Gulmarg, you can start from either Kongdori or Aparwahat Peak. The Gandola cable car is, by far, the largest cable car project available to visitors. Ski goggles, clothes, boots, socks, and gloves are essential for skiing. You can lease them from any nearby retailer or buy online.
Also Read: Best Places to Visit in India During Summers
Auli, Uttarakhand
Auli, one of India's best skiing destinations, is situated in the Gharwali hills. The place finds itself at an elevation of 2500 to 3000 meters above sea level. Auli is about 250 kilometers from Rishikesh and is well-known among India's most skilled skiers.
It is Uttarakhand's most famous skiing resort because it provides a well-kept, clean hideaway away from the hustle and bustle of city life.
The ski slopes here range from 2000 to 3000 meters, with just the right amount of snow. A 500m long ski-lift and an 800m long chair lift transport skiers to the top of the mountains.
Phuni Valley, Sikkim
In Lachung, Sikkim, there is a valley called Phuni Valley. It is a relative newcomer that has quickly established itself as one of India's most incredible skiing destinations.
The snow, which is at a height of 11000 feet, provides a fantastic experience for skiers who want to glide down the slopes effortlessly. It should be on your list of places to visit if you wish to see the beauty of nature while having an exciting skiing experience.
Narkanda, Himachal Pradesh
Narkanda is another well-known tourist destination from Himachal Pradesh's breathtaking natural beauty. It's around 65 kilometers from Shimla, at an elevation of 2708 meters, on the Hindustan Tibet Road.
It has diverse slopes for different types of skiers and provides a great perspective of the snow ranges. Skiing and winter sports are popular in Narkanda.
Dayara Bugyal
It is located in Uttarakhand's Uttarkashi district. Dayara is well-known for providing superb skiing opportunities, and it is a popular destination for domestic and international skiers.
The abundance of snowfall during the winter season creates a thrilling experience. Slopes range from easy to challenging. Also, there's a ski instruction school for novices. Chiplakot, Bdeni Bugyal, and Natya are other spots in Uttarakhand where you may go skiing.
Also Read: Four Groups You Can Join for Your Solo Trip in India
Munsiyari, Uttarakhand
Munsiyari, Uttarakhand, is a popular destination for hikers and glacier aficionados. It is situated on the banks of the Goriganga River and serves as a haven for the Johar Valley.
For both novices and pros, Munsiyari offers some fantastic snowboarding opportunities in India. Skiing in Munsiyari is just as popular as snowboarding.
Yumthang Valley, Sikkim
Yumthang Valley is known for its beautiful scenery and as a popular snow and adventure sports destination. Skiing, hiking, and mountain biking, you can find everthing here.
It is 140 kilometers from Gangtok and stands at 3,564 meters above sea level. The valley's lone permanent habitation is a forest house.
Manali, Himachal Pradesh
Manali is a breathtakingly lovely city in Himachal Pradesh. It is a beautiful hill station that is quite famous among Indians and has some of the best sites to visit.
The area's enormous snow deposits and beautiful slopes make it a dreamy destination to ski in the winter. Every tourist to Manali should go skiing at least once.
Solang Valley, Manali
If you enjoy adventure, put yourself under the guidance of skilled instructors to experience the thrill of skiing in Manali's scenic setting.
Solang Valley's meandering slopes are great for beginners learning their first moves, and professionals looking for a new challenge. Every year, a skiing festival is held in the area, which attracts many tourists.
Also Read: Delhi's Seven Most Expensive and Lavish Cafés to Visit in 2022
Mundali, Uttarakhand
Mundali, situated in Uttarakhand, is a prominent Indian skiing destination with lush green woods and high peaks, blanketed in fluffy snow.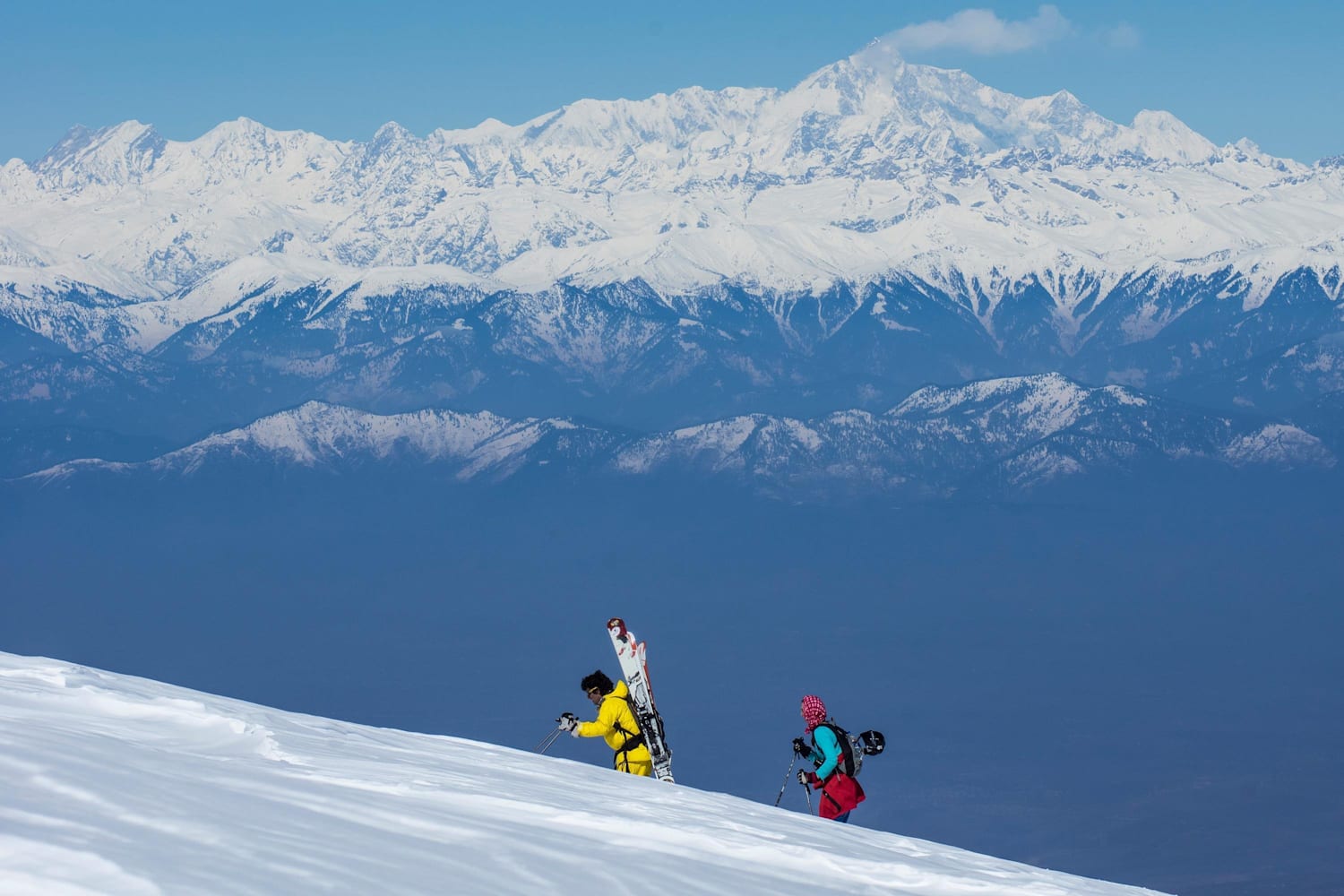 While talking about skiing, Mundali stands out as the most picturesque spot. It is a fantastic terrain for pros to enjoy and polish their skiing skills.
Also, it provides ideal slopes for beginners to begin their ski excursion. It is located in the Dehradun district and is known for its steep slopes.
Tawang, Arunachal Pradesh
Tawang, while being a pretty new destination for the sport, is one of India's most spectacular skiing spots and one that you must visit for a genuinely thrilling skiing experience.
The Panga Teng Tso Lake, often known as PT Lake, is the best place to ski in Tawang. PT Lake, located 17 kilometers from the city center, has gliding slopes covered in heavy snow in the winter. Skiing on these slopes is a great treat for all skiers, whether novice or professional.
Sethan, Manali
Sethan, located 3,200 meters above sea level and 45 minutes from Manali, offers incredible views of the Dhauladhar mountain ranges. Skiing, snow walking, and sledding are all popular winter sports in the town.
However, Sethan is an unusual location. Unlike other places, where you might not have an entire ski slope to yourself, here you will have whole of it to yourself.
Conclusion
Now is the best time to start planning your skiing trip to India. For a stress-free vacation experience, conduct thorough research and make advance bookings and reservations.
This once-in-a-lifetime adventure will take you to spectacular locations. Moreover, it will serve as a helpful reminder to be physically fit.
After having failed relationships with Mathematics, landed in the world of poetry and literature. Since then finding peace within stories, humor, and food. When not finding peace, you'll find me exploring the best dessert spots in the town.