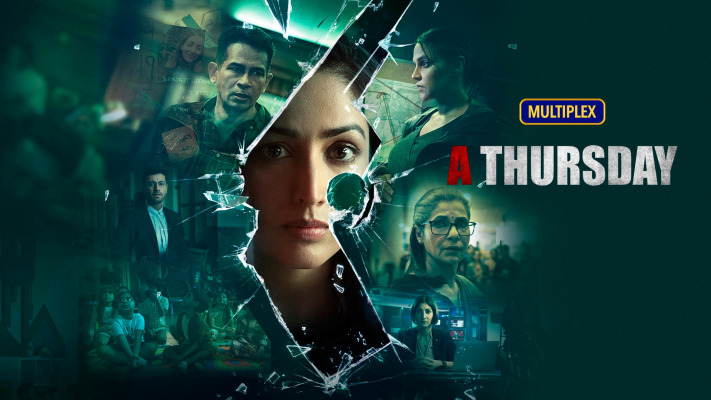 Most of the films based on a Hostage situation need to ace three things to survive: Motive, Demands, and Exit Strategy.
Usually, writers improvise and add peculiar aspects within these three dimensions to grab the viewer's attention and offer something unique. 'A Thursday' does the same but did the gamble work? Let's find out.
Also Read: Gehraiyaan Review: A Winner Till the End, Led by Deepika Padukone
A Thursday Review Summary
Led purely by Yami Gautam, despite the presence of some great actors, 'A Thursday' is an intriguing watch. The film covers a vital topic; however, it is a bit more on the emotional side. I give it a thumbs up for the performances, plot, and moments of fear the movie creates.
Now, it's time we dive deep and analyze some of the film's aspects.
Synopsis
Starring Yami Gautam in the lead role, 'A Thursday' is written and directed by Behzad Khambata. Its supporting cast includes exceptional actors like Neha Dhupia, Dimple Kapadia, and Atul Kulkarni.
The film's story surrounds Naina (A playschool teacher), who takes 16 children hostage. Her demands and the subsequent narrative are what the entire film showcases. Will Naina, who's sweet and generous by nature, kill the kids, or will she spring a surprise for everyone?
What works for 'A Thursday'?
As I mentioned in the beginning, there are three aspects that a hostage film needs to ace, Motive, Demand, and Exit Strategy. I would judge 'A Thursday' based on the same.
But first, I will quickly take you through the basic things that carry the film.
Narrative
A Thursday's narrative is captivating through its 2 hr. long run time. The suspense, mystery, and thrill keep you on the edge of your seat. Moreover, the story blends equally well with the screenplay.
It makes you believe that certain acts by Naina are useless. However, as the story progresses, the plot reveals why they were done. Makers have given a good amount of thought to the "why" and "when" parts of storytelling.
Yes, it does take a lot of creative liberty, but that's how fiction works. If reality and fiction were the same, why would anyone make films?
Background Score
Well, undoubtedly, if there's one thing in a thriller you don't want to mess with is the background score. A Thursday doesn't disappoint and delivers a riveting experience for your ears. The sound is entrancing and top-class.
Also Read: Human Series Hotstar: The Marvelous Supporting Cast of the Stellar Show
Performances
Well, let me make it clear that Yami has done an amazing job, but she could have been a little better. Why? Because I love her as a performer and expected more. She's great, but I won't call her act effortless.
Yami as Naina is both the protagonist and the antagonist of the film. She excels in every aspect except for the very thin line between the two facets.
Besides, Atul Kulkarni has done a tremendous job. I also feel the talent of Neha Dhupia was underutilized but whatever she did was fabulous. As the Prime Minister of India, Dimple Kapadia is at her very best, as we have known her over the decades.
Motive
When you learn about Naina's motive and intentions, you want to salute her for her courage and what she went through for years. 'A Thursday' does well on this part and showcases the power of an ordinary woman who is a victim of the system.
Demand
Here's another angle that works for 'A Thursday'. Though Naina's demands become unrealistic after a point, her legitimate intentions keep you involved.
What doesn't Work for 'A Thursday'?
Melodrama
As a team, 'A Thursday' tries its best not to overdo the emotions. For the majority of the part, it succeeds as well. However, it is at the end that things falter. I won't call it wrong because it was the crux of the story. But calling it a cliché of some sort wouldn't be inaccurate either.
We have already had such concepts in the past, which is probably why it sounds repetitive in the beginning. Still, when I see it as a creator and not as a self-proclaimed critic, I don't find an issue with the film's subject clashing with other movies.
Unreal
The demands of Naina keep getting bigger and bigger as time progresses. And that's when the unrealistic part comes into play. For the final showdown, she wants to meet the Prime Minister of India, which is a tad illusory.
A Basic Mistake
Okay, so here's something strange that happens in the film. When Naina puts her first demand for the cops to fulfill, she asks for money to release every child, one by one. Later, she gives up on money and instead puts forth other ultimatums.
My concern here is there was no need to give up on the money. The writers could have maintained that demand alongside other things. There's nothing wrong, though; you can have a story in any way you wish. However, for me, that one thing would have added more originality and intensity to the hostage situation as a viewer.
Exit Strategy
Naina's exit strategy is made to be too easy. Imagine a criminal meeting the Prime Minister of a country in a hostage situation and still leaving physically unharmed. Can you believe it?
Again, two things can make you accept Naina's exit strategy, as penned by the writers. One is the point she is raising through her actions. It is the easier option. Another way to consider the same is "creative liberty," which is tough to accept because obviously, you want to keep things as natural as possible.
Should you Watch 'A Thursday'?
After all the analysis, it is safe to say that 'A Thursday' is a good film up to a point. If not for the ending, you must watch 'A Thursday' for the chills it offers.