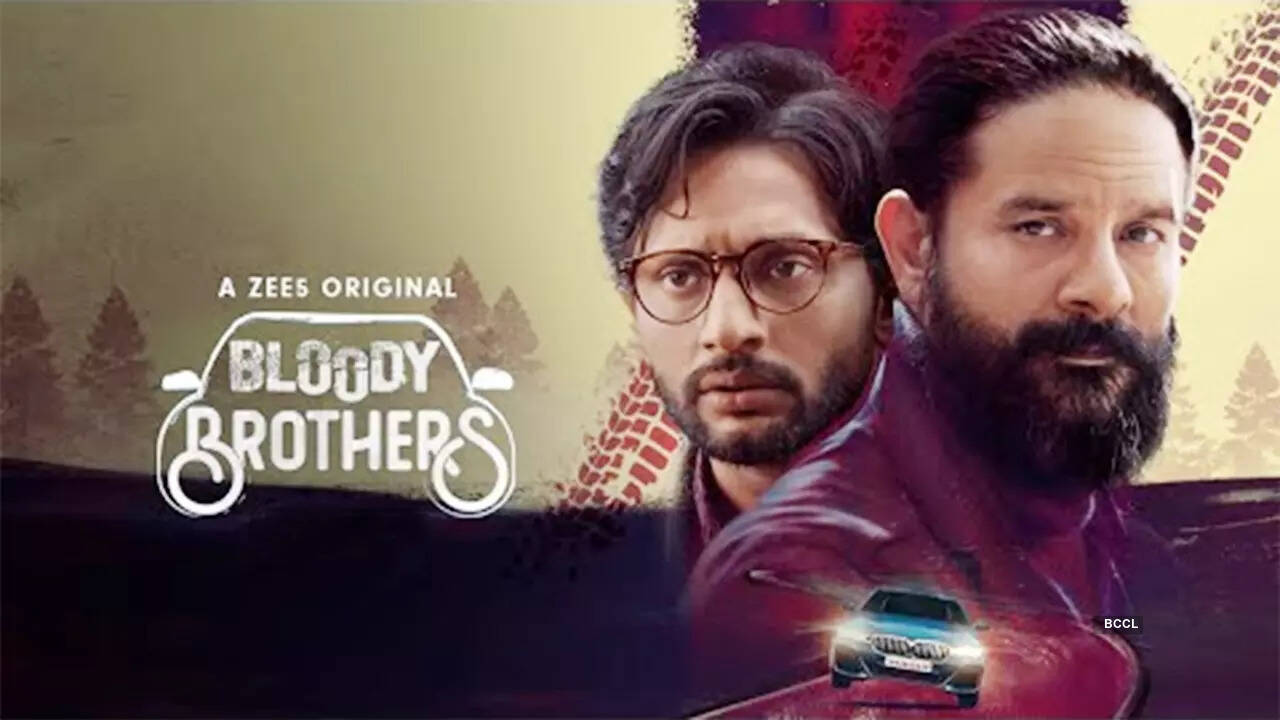 I almost had zero expectations from Bloody Brothers, considering its spooky title. It was the lead actors that allured me towards watching the series.
The beauty of storytelling is that the same concept can be told in several other ways. I am saying this because the release date of Bloody Brothers coincided with Jalsa, starring Vidya Balan and Shefali Shah. Both the creations are based on the same concept, a hit and run case. However, the take is entirely different.
Before stretching the introduction further, let's jump to the review summary of Bloody Brothers.
Bloody Brothers Review Summary
There is so much to like about Bloody Brothers and very little to dislike. It is cooked with the right ingredients in the correct quantity. Moreover, with just six episodes, the series, full of twists and turns, will not take much time to finish. 
Bloody Brothers Synopsis
Starring Mohammad Zeeshan Ayyub and Jaideep Ahlawat in lead roles, Bloody Brothers is directed by Shaad Ali. After Rudra, we have yet another collaboration between Applause Entertainment and BBC Studios India.
It revolves around the life of two brothers, Jaggi Grover (Jaideep Ahlawat) and Daljeet Grover (Zeeshan Ayyub), and follows a hit and run committed by them. Bloody Brothers comprises six episodes, focusing on unraveling the mystery step-by-step.
The man they hit by their car was Samuel Alvarez (Asrani), already suffering from Cancer. They try to hide their crime by hook and crook but eventually, the two brothers realize that the truth is something far from their understanding.
Apart from the lead pair of Zeeshan and Jaideep, there are other stellar actors like Shruti Seth, Tina Desai, Jitendra Joshi, etc. The series also has a guest appearance from the legendary actor, Asrani. Additionally, there is Satish Kaushik with a cameo as the head of an illegal cartel.
What works for Bloody Brothers?
Screenplay
In a word, I would call the screenplay 'fantastic' as it juggles between the past, present, and different characters. For the most part of the series, you will remain glued to the screen. It introduces several mysteries and builds upon them, making for an exciting watch.
As viewers, we are mostly introduced to characters through the story. However, Bloody Brothers throws new pawns of the game through its screenplay, which works well for the series.
Performances
Bloody Brothers is led by two understated actors of Indian Cinema, Jaideep Ahlawat and Mohammad Zeeshan Ayyub. They are tasked with performing as brothers, and both efficiently deliver on the front with an adorable and cheeky chemistry.
Jaggi is the dominant force among the siblings having money, street-smartness, and physical and mental strength. Jaideep's nimble-witted attitude brings life to the character as he ably switches between being a responsible elder brother and one who has to be intelligent and realistic.
After years of going unnoticed in films, Ahlawat is finally getting to play lead roles. His heavy voice and trademark hairstyle are other things you can call 'killer'. Moreover, he adds depth and drum rolls to infuse fun into the series.
But when it comes to the funny side of Bloody Brothers, it is Zeeshan Ayyub who is given the baton. He is someone who is yet to see a rise in fortune in the hustle and bustle of Indian Cinema, but the man is immensely talented, no doubt.
Zeeshan drives the audience with his awkward yet sarcastic interruptions. He is a fulfilling blend of charm, handsomeness, and naivety. As Daljeet, he owns a bookstore but is not too much into literature. However, his love for poetry is unparalleled.
Zeeshan's recital of 'ghazals' and poems is soothing to the ears, leaving you to crave for more. He is broken at heart but yet to become hopeless in love, and that is what makes him special, apart from purity and genuineness.
Furthermore, there is Shruti Seth back on screen after a long time. She does a good job with the limited layers she has at hand. Jitendra Joshi as a private investigator, adds another dimension to Bloody Brothers.
Tina Desai delivers well too. While essaying Sophie, she doesn't leave any gaps in her performance. Her character might not look too insightful on paper, but when it is brought to the screen by Tina, the results are quite satisfying.
We also have the mammoth of an actor, Asrani, playing a small part in the series. His minor presence will make you nostalgic and force you to think why they did not give him a full-fledged role. Also, Satish Kaushik is daring and sensational in his gangster avatar.
Narration
Shaad Ali, the director of Bloody Brothers, is able to craft a narration that is both intriguing and fresh. He ensures that the story doesn't fall flat when viewed in parts or after long gaps by leaving ample space for suspense and thrill.
Mystery
Bloody Brothers is full of surprises, from start to end. The story has several elements that keep you guessing about what happens next. It isn't entirely unpredictable, but the show is enough to satisfy your thirst for a mysterious ride.
Twists and Turns
I could have easily merged this part with the previous point; however, having mysteries and owning twists and turns are two different things. The former becomes even better when facilitated by the latter.
While watching Bloody Brothers, you will never be prepared for the twists that might occur in the next frame. It has the ability to introduce fresh turns along the road that leads to a new path on the way to the final destination.
Short Duration
There are six episodes in Bloody Brothers, with the curtain-raiser being the lengthiest. The rest of the episodes are 30-40 mins long, which works in favor of the series. Had the duration been more, the mystery would have suddenly become lame to follow.
What doesn't work for Bloody Brothers?
Not that funny
Since the show identifies itself on Zee5 as falling into the "Comedy" category, it should have been funnier. There are jokes, sarcasm, one-liners, laughable moments, but if its aim was to be a comedy series, Bloody Brothers fails big time.
Should you watch bloody brothers?
Yes, in my opinion, you can definitely watch Bloody Brothers for its interesting plot.
FAQs
Is Bloody Brothers based on a true story?
No, Bloody Brothers is not based on a true story.
Will there be a second season of Bloody Brothers?
There has not been any official announcement regarding the next season of bloody brothers. However, makers have kept an open ending to revive the series with season 2. A lot can happen, given that a key character is yet to enter the fray.
*The next section contains spoilers*
Bloody Brothers Ending Explained
In the final minutes of the last episode, we see the Police nabbing Jaggi because of Daljeet. The latter then leaves the town with Sophie, expecting a bright life ahead. On the other hand, Handa collaborates with Sheila to carry forward his illegal activities.
However, in a massive plot twist, the real Sophie arrives at the police station in the presence of Jaggi. That is precisely when the curtains fall.
The makers have tried to convey that they will reveal the real Sophie in the next season. It is possible that the truth of Samuel's death will come out in the open because his daughter has asked the authorities to send the body for a post-mortem.
I feel that the second season can be more gruesome, considering Handa's enmity with Jaggi and his partnership with Sheila. There will also be another reunion of the two Bloody Brothers, for sure.