A mainstream actor's film directly releasing on OTT is not common in India. Therefore, when it happens, you better grab the opportunity and watch the movie ASAP. I am talking about Darlings, the much-hyped Alia Bhatt starrer, backed by Shah Rukh Khan's production house.
The two names are more than enough to allure the majority of Indian cine-lovers. Add to it the majestic combo of Shefali Shah and Vijay Raaz, do you need anything else?
Darlings is streaming on Netflix and promises to be an offbeat comedy. Well, does it succeed? Let's find out.
Darlings Review Summary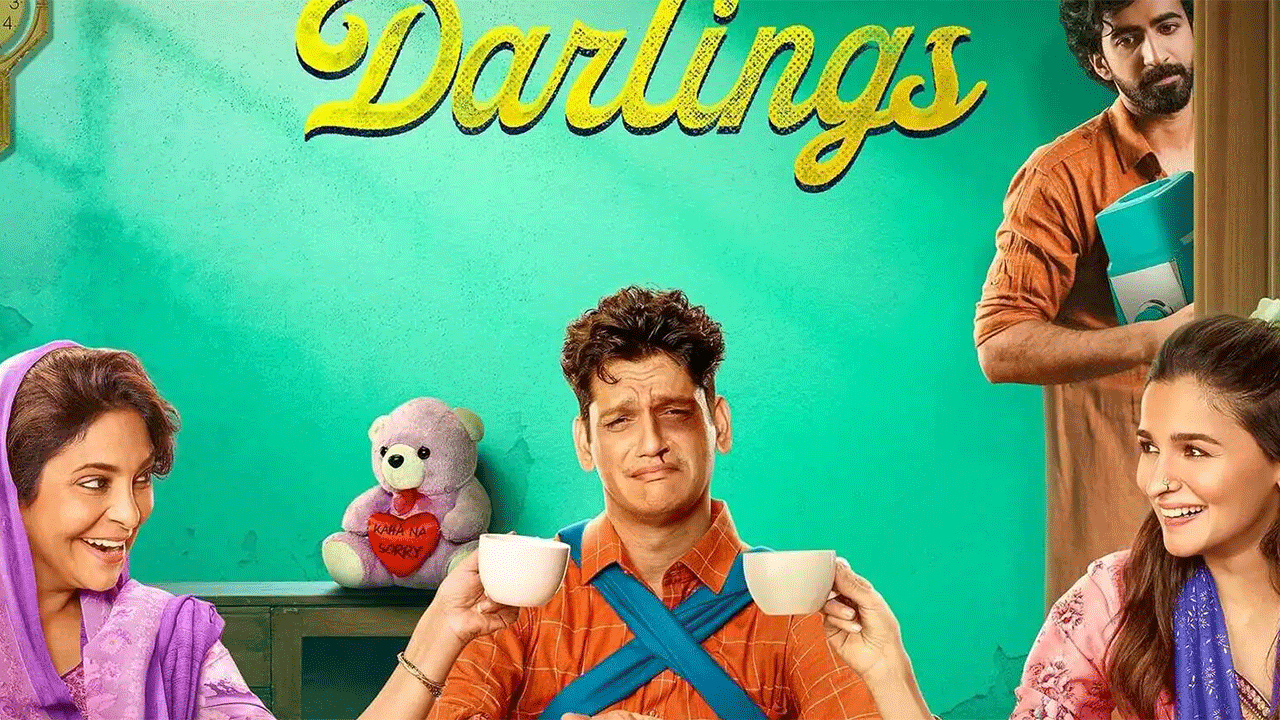 Astonishing performances from Vijay Varma, Alia Bhatt, and Shefali Shah cannot save Darlings from drowning. It does have appreciable factors, but they are overpowered by the downsides.
Keep reading my Darlings review to learn more.
Darlings Synopsis
A physically abusive husband is held captive by his wife and mother-in-law after he doesn't change despite repeated chances. What will be the result of keeping him hostage?
Directed by Jasmeet K. Reen, Darlings stars Alia Bhatt (Badrunissa), Vijay Varma (Hamza), and Shefali Shah (Shamsunissa) in lead roles.
What Works for Darlings?
Concept
Darlings has a relatable concept for the average Indian household. It is almost the story of 6 out of 10 marriages in India. Domestic violence is used to full effect and benefit for the concept. Yes, the execution could have been better, but still, you have to credit the team for putting it together.
Story
Initially, when mooting my Darlings review, I had decided to call its story 'mediocre,' but I don't think that would be apt. Maybe, they never wanted to be unique in every aspect. You have to accept such a concept with a pinch of salt. It will hit the wall after a point, which is why I would rather call Darlings' story 'half-cooked' than 'mediocre.'
Sensational Performances
If you read my reviews, you know I don't put an adjective with "performances," but Darlings has a swashbuckling set of actors performing like a charm.
Alia Bhatt is meticulous in Darlings. Be it intense scenes or emotionally exhausting moments, Bhatt never shies away from delivering her best. In Darlings, she avoids being catchy and tries to root herself in the typical Indian housewife's shoes.
I might not remember Darlings for the expectations I had from the film, but I will think of it as an important film in Alia's transformation. She continues from where she left in Gangubai Kathiwadi.
Vijay Varma brings a diligently flawed persona to the screen. He runs the first half almost entirely on his shoulders. The kind of rage Varma infuses into Hamza is par excellence. However, the real touch of genius is kept for the latter part of the film when Vijay has to orchestrate a sedated mien.
The inflections in his voice and his estranged countenance while delivering dialogues were incredibly done. Varma is a superstar who needs to be in the limelight. He's been around for enough time to deserve it.
Shefali Shah is phenomenal as Shamshunissa in Darlings. Out of all the actors in the film, she is the most elegant. I have always loved how Shah carries herself in front of the camera. The most recent examples are her performances in Human and Jalsa, where she was exquisitely scintillating.
While the burden of action lies on Varma and Alia, Shefali is given the charge to hold the plot together with her trademark couth in Darlings.
Roshan Mathew, as Zulfi, also carves his way out of the stardom around him. It would be interesting to see him in upcoming films.
What Doesn't Work for Darlings?
Slow Middle Phase
You can split the entire movie into two from midway. The first half is intriguing and arousing, while the second is bland and straightforward. Darlings never comes across as an entirely well-made creation.
Unfortunately, it is due to the pace of the film that slows down after a terrific start. When you are fed with delicious starters, wouldn't you expect the main course to be more flavorsome? That's my crude metaphor for Darlings.
Second Half
Darlings is not short of elements; it falls short on their creative utilization in the second half. Probably, the makers shouldn't have contained things after a pivotal first half. They should have gone all-out. Expectations were high, but the movie couldn't raise the tempo when it was needed the most.
Final Word
You can watch Darlings for its concept, intentions, and praiseworthy performances. However, any more expectations are going to hurt you.