I was a little skeptical before getting on to Prime Video and streaming Gehraiyaan, purely because of the enormous hype it has garnered. I had presumed it to be a glitter that's not gold.
Before getting into further details about how the film fares and how it changed my opinion, here is a quick summary for those in a rush.
Gehraiyaan Review Summary
Riding heavily on the shoulders of Deepika Padukone, Gehraiyaan is indeed a deep affair. The film is not just good, it is incredible till the very last frame. Missing Gehraiyaan at any cost would be a massive loss if you are a cinema lover. It's a must-watch!
Also Read: Looop Lapeta Review: Enjoyable, Intriguing Yet Unreal
Synopsis
Much has been written about the film already, and the buzz is sky-high. However, since we have a short-lived memory these days, I will quickly brush up on how the stakes are stacked.
Gehraiyaan is directed by Shakun Batra and stars Deepika Padukone, Siddhant Chaturvedi, Ananya Panday, and Dhairya Karwa in lead roles. It also stars a cameo by Naseeruddin Shah.
Since the biggest USP of the film is its story, I must mention the writers. The film is penned by Ayesha Devitre Dhillon and Shakun Batra.
The film's crux majorly revolves around Alisha (Deepika Padukone) and Tia (Ananya Pandey). They are cousins and have a troubled past owing to some family issues.
Alisha struggles to find investors for her fitness application and is characterized as a middle-class girl in love with a struggling writer, Karan (Dhairya Karwa).
On the other hand, Tia's financial position is the exact opposite. She's well of and has a wealthy lifestyle while being romantically committed to Zain (Siddhant Chaturvedi).
The two sisters meet after a gap of eight long years and whatever happens afterward is the film's main plot.
Also Read: Is Doctor Strange in the Multiverse of Madness Connected to What If…?
What works for Gehraiyaan?
Gehraiyaan has the buzz, the star cast, and a proficient director. Moreover, it is the first Hindi film ever to have an Intimacy director on sets, another startling point of Gehraiyaan.
But does it live up to the hype or not? Let's see what works for Gehraiyaan.
Deepika Padukone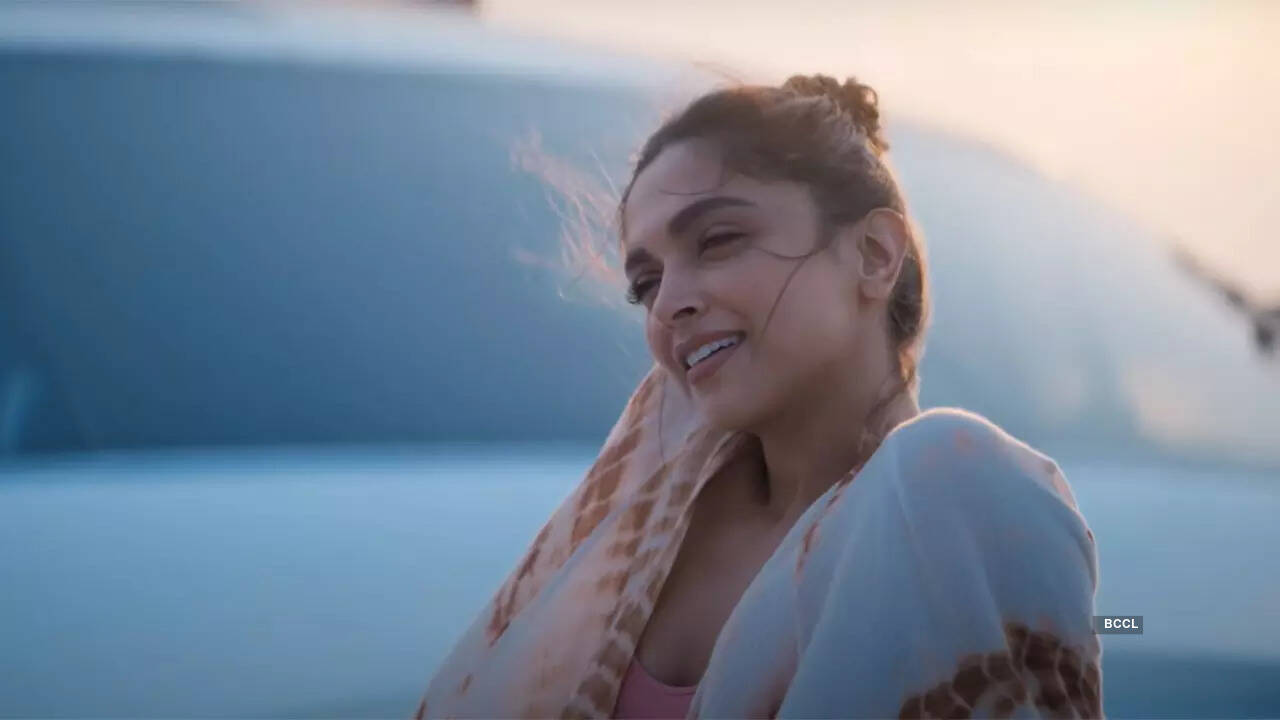 Usually, I don't like to attach a movie's success to one individual. But the case with Gehraiyaan is both different and irresistible.
The film catches a distinct rhythm whenever Deepika occupies a solo space on the screen. Her expressions, conciseness, and the elusive art of delivering what's required are simply outstanding.
She can portray the happiest person on the planet, and in the same breath, she can be the most depressed soul. Her screen presence is immaculate and unmatchable. With her stellar act, Deepika ensures Gehraiyaan reflects the depth it promises.
Performances
No, I am not gonna run away giving all the brownies to Deepika Padukone. The other cast members have done a spectacular job too.
Specifically, Siddhant Chaturvedi has pulled off a mind-blowing act. He is intricate, balanced, and laudable as Zain.
Siddhant's chemistry with Deepika is something to behold. Their association gives Gehraiyaan the required attitude to come out on top.
Moving further, Ananya Panday and Dhairya Karwa excel at what they do. Moreover, Naseeruddin Shah is fantastic as always. The legendary actor seems to be aging like a fine wine.
Also Read: In Which Order Should You Watch the Marvel Cinematic Universe?
Story
Gehraiyaan falls under the 'suspense, drama, and romance' genre as described by Amazon Prime Video. With such a heavy load on its shoulders, the film needed a staggering storyline.
And guess what, the plot does have all the ingredients to consistently keep you hooked. Characters are well written, story overlapping is taken care of, and brakes and acceleration are used correctly. The story is emotional, steamy, and gives a whodunnit feel at times.
Music
Honestly, I didn't particularly like Gehraiyaan's pre-release Jukebox. But after watching the film, I can resolutely say Music is the backbone of the Shakun Batra directorial.
The background score also ameliorates the film while complementing the screenplay.
Screenplay
The most crucial objective of a film's screenplay is to keep the viewers hooked throughout the run time. If there was one point I was sure wouldn't work for Gehraiyaan, it was its screenplay. Not because I doubted the makers' abilities, but simply due to the genre of the film.
Generally, suspense movies based on love dramas have a clichéd screenplay. However, that is not the case with Gehraiyaan. The film beautifully aces the elements of surprise, impending tension, and intimacy.
What doesn't work for Gehraiyaan?
There's hardly something that doesn't work for Gehraiyaan. I could only gather two points that could count as negative aspects.
Not for the Masses
Considering the plot's background, Gehraiyaan is not what the Indian masses would love. It is more for the urban classes than for the rural masses.
Also, since several casual conversations happen in English in the movie, Gehraiyaan certainly doesn't want itself to be portrayed as a massy film either.
Obviously, that doesn't make the film bad, and, in fact, I dearly wish for Indian masses to watch such movies and come out of the orthodox shell that keeps them away from a significant chunk of great flicks.
A Slow Start
Gehraiyaan starts a bit slow but picks pace in due time. If you are a fan of movies that give chills from the very beginning, it might disappoint you.
Should Gehraiyaan be Watched?
I ask, why not? There is no reason for skipping Gehraiyaan. It does what it promised in the pre-release hype. Moreover, Deepika is at her very best in the movie, and her chemistry with Siddhant is a thing to watch out for.
Gehraiyaan Trivia
It is the first time that Siddhant Chaturvedi is paired against a leading Bollywood actress.
Gehraiyaan is Deepika Padukone's only second Dharma film.
It is the first Hindi movie to have an Intimacy director on set.
FAQs
What is the Opposite Word for Gehraiyaan?
Ans. 'Gehraiyaan' is an Urdu word meaning 'Depths' in English. The opposite word for 'Gehraiyaan' is Chhichhala. In English, the opposite of 'Gehraiyaan' is 'Shallowness'.
2. Is Gehraiyaan a Real Story?
Ans. No, Gehraiyaan is a fictional story.
3. Gehraiyaan Ending Explanation?
Ans. Well, there can be several explanations to Gehraiyaan's ending. According to me, both Tia and Alisha might start a romantic relationship, given Tia's likeness for her cousin. This might sound an absurd observation but probably, that's what can happen.