The serene atmosphere of villages, lush green fields, unembellished way of living, and, most importantly, the dialect are features of India's sweet and simple rural life.
Not many of us have experienced it in reality, especially the current generation. Therefore, it feels soothing to witness movies and web series originating from villages.
A new web show has started streaming on SonyLiv, which is all about life in rural India. It goes by the name 'Nirmal Pathak ki Ghar Wapsi'.
For my Non-Hindi readers, the title means 'Nirmal Pathak Returns Home.'
Nirmal Pathak ki Ghar Wapsi Review Summary
Starting as a fun and light-hearted story, the show goes on to explore social subjects in a compelling manner. Nirmal Pathak Ki Ghar Wapsi is a ride filled with all the right ingredients required for a delicious palette.
However, it is not void of shortcomings too. Keep reading my Nirmal Pathak ki Ghar Wapsi review to learn more about some of its aspects.
Nirmal Pathak ki Ghar Wapsi Synopsis
When Nirmal Pathak was 3 years old, his father left their native village to settle in New Delhi. Now, at 24, Nirmal returns to the place and falls in love at first sight with the town.
Apart from fun, bonhomie, and new friendships, his comeback unfurls several mysteries regarding why his father left the village in the first place. Life comes to a circle when things take a devastating turn, leaving Nirmal Pathak in a spot of bother.
Directed by Rahul Pandey and Satish Nair, Nirmal Pathak ki Ghar Wapsi stars several lesser-known acting talents. The cast includes Vaibhav Tatwawadi (Nirmal Pathak), Akash Makheeja (Aatish), Vineet Kumar (Netaji), Alka Amin (Santoshi), Pankaj Jha (Makhanlal), Garima Vikrant Singh (Genda Bua), Tarun Kumar (Baba), Tanishqa Rana (Nibha), and Kumar Saurabh (Lablabiya) among others.
What works for Nirmal Pathak ki Ghar Wapsi?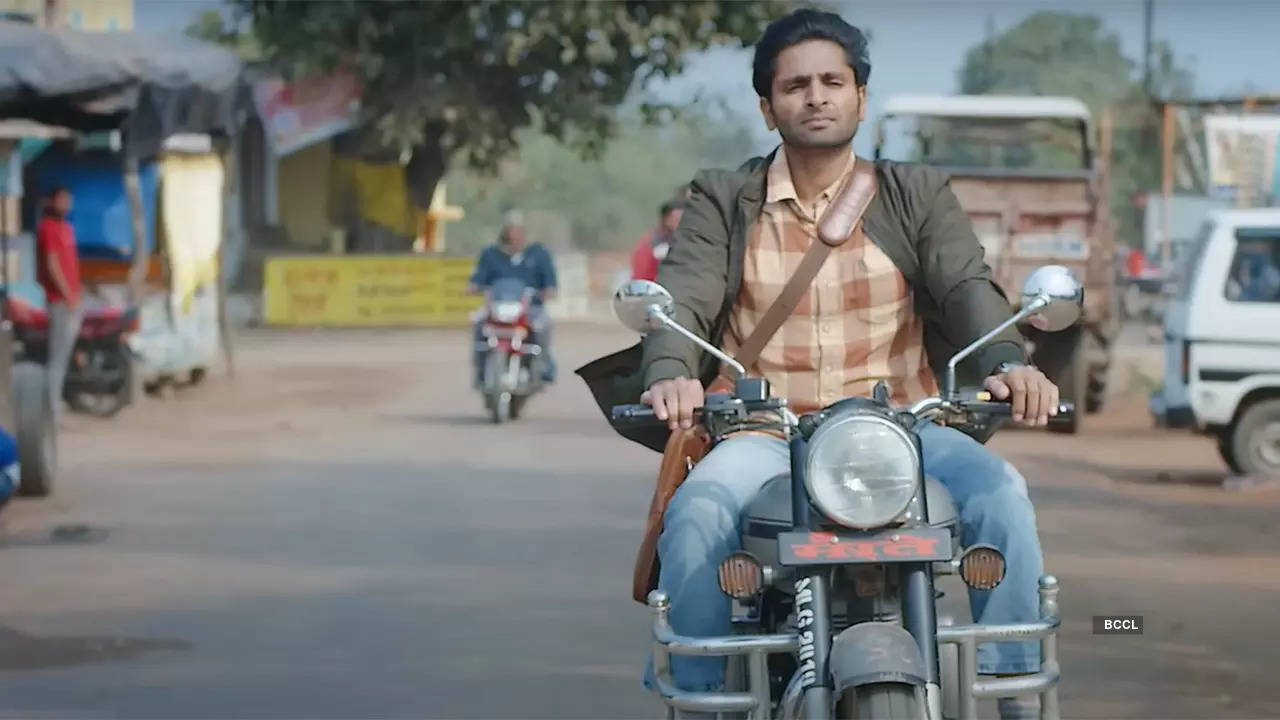 Concept
The show arises out of an exciting concept that is raw and authentic. Someone returning to their homeland and witnessing things as a novice gives ample opportunities to infuse humor and drama. The only thing the creators had to ace was the execution part, which they do pretty well.
I also felt that the makers were profusely assisted by the concept in creating intriguing sub-plots, which further helped shape the narration.
Writing
Nirmal Pathak ki Ghar Wapsi has a well-written script that allows characters to grow. Crisply penned-down scenes help elevate the emotional and dramatic moments. Moreover, jokes and humor are kept intact with precision.
Since the story is set in rural surroundings, it was vital to add a local touch to the comedy. And makers have done complete justice to maintain the rhythm and beat of the series. Good writing also ensures that things never feel stretchy or out of proportion.
Though, after a point, the story begins to fall apart for Nirmal Pathak ki Ghar Wapsi, it doesn't ever entirely go out of touch.
Heartfelt
There are numerous moments full of warmth and friendliness in the show through which Nirmal Pathak ki Ghar Wapsi succeeds in transporting happy vibes to the audience. The love people in the village have for each other is beautifully brought to the screen.
The feelings and emotions feel personal, and, for a moment, you would want to pack your bags and leave for your village.
Emotional
Nirmal Pathak ki Ghar Wapsi is based on an emotional subject of an individual returning to his native village after 24 long years. He is someone's son, brother, cousin, nephew, and whatnot. Therefore, emotions were bound to be higher than in a usual storyline.
The series has sequences that pinch your sensitive bones and leave you teary-eyed.
Funny
Yes, I have already mentioned how comedy has been used in Nirmal Pathak ki Ghar Wapsi; however, I found it essential to explore the aspect individually. The most recent show we have that resonates with Nirmal Pathak ki Ghar Wapsi is Panchayat, which was full of shrewd humor.
However, this one is more about situational comedy that never feels forced or lame. It will relate to the average Indian and attract bursts of laughter.
Performances
Nirmal Pathak ki Ghar Wapsi is a series filled with stellar performances. The best part is there are no mainstream actors fueling the show.
Vaibhav Tatwawadi plays the lead character of Nirmal Pathak and excels to new heights. I have seen him act in the past but never as the sole lead. Here, his titular role is full of energy, elegance, and intensity.
As Nirmal, he sets some boundaries for himself and never breaches them. He gives effect to a matured performance while showcasing titbits of rational imperfections. Vaibhav is so immaculate that you will never disallow him from playing with your emotional valve.
A particular thing I liked about Vaibhav Tatwawadi's performance was his reflection of controlled angst. You'd never find him losing shape in the quest to chase excellence.
Akash Makheeja plays the second lead in Nirmal Pathak ki Ghar Wapsi. His character, Aatish, is not just the humorous embodiment of the series but also the manifestation of crude intensity. He flaunts a rough accent, represents a humble upbringing, and sometimes works as a protective shield.
It was the first time I witnessed him act, and I am sure he would win over several hearts in the coming years. Akash lays down a plan to perform and then religiously follows it throughout the duration of Nirmal Pathak ki Ghar Wapsi.
Garima Vikrant Singh caught my attention despite getting a limited screen time. Her voice modulation, hold on the dialect, and the true reflection of emotions are bound to impress you. She plays Genda in Nirmal Pathak ki Ghar Wapsi and never fails to leave a mark despite a curtailed presence.
Tanishqa Rana and Kumar Saurabh are also two actors who greatly influenced me through their tall acts. While the former was a shimmer of freshness as Nibha, the latter amazed me with his well-performed character of Lablabiya.
All others, including Vineet Kumar, Alka Amin, and Pankaj Jha, are fluent and flawless.
What Doesn't Work for Nirmal Pathak ki Ghar Wapsi?
Poor Writing in the Second Phase
The show starts well and keeps the flow going for a reasonable amount of time. However, it falters when emotional conflicts overtake the screen. The first three episodes are well-written and blended with a decent pace.
Afterward, you start feeling that things are being done to enforce a conclusion. Some of the sequences are stretched, and some are just done for pleasantry.
The concept is good; nothing is short on that front. Maybe, the makers could have used a different narration style to elevate the flight in the second half's story of Nirmal Pathak ki Ghar Wapsi.
The Change of Vibes
Initially, the series comes across as a heartfelt, warm, and funny creation. The vibes are to die for. However, all of it changes after some episodes. I am not averse to the plot's development, but such a progression is done too aggressively in Nirmal Pathak ki Ghar Wapsi.
From a heartwarming show, it turns into some sort of a crime thriller. Specifically, the ending is too peculiar to believe. I also question the decision of releasing only five episodes and leaving the rest for the second season.
The show's title might undergo a change in the next outing because Nirmal Pathak wouldn't be returning to his home unless the script goes through a considerable deviation.
Where's the Logic?
There's a writer who hails from Delhi and finds it hard to talk in Hindi when in the middle of villagers. However, the moment he sits in front of the laptop, he not only writes in Hindi but also types in the language with fluency.
It was a bizarre mess that should have been avoided. Typing in Hindi is hard unless you are adequately trained, and seeing the character sketch of Nirmal Pathak, his incompetence in the show is a no-brainer.
Instead, the makers could have made him write in English and done the voiceover in Hindi.
Final Word
Despite some of its limitations, Nirmal Pathak ki Ghar Wapsi is a must-watch show. If you loved watching Panchayat, you are in for a treat. However, look out for the change in vibes.
Like reading? Subscribe to the Word Street Journal using the below banner.