Amazon's Unpaused: Naya Safar is like a heater that takes time to evenly warm the room. Please don't mind my poor use of "Figure of Speech". Five directors, five stories, and one series. Is it worth it?
Is Unpaused: Naya Safar the second season of Unpaused?
Firstly, some people doubt whether this is the second season of Unpaused, which released in 2020. The answer is NO. Only the name is same; Amazon is presenting it with a solo identity. So, it is "Unpaused: Naya Safar Season 1".
It could have been a movie instead of a five-episode series averaging about 25 minutes each. However, with web series being the latest trend, makers decided otherwise.
Each episode of the series has a new director, crew, and, obviously, story. Which makes it all the more important to acknowledge each one separately.
Here are the five episodes cum short films of Unpaused Naya Safar:
Episode 1: The Couple
Episode 2: War Room
Episode 3: Teen Tigada
Episode 4: Gond Ke Laddoo
Episode 5: Vaikunth
Unpaused Naya Safar Review Summary
If you are short on time and don't want to go any further, Unpaused is a decent series that could've been better. The only thing common in all its episodes, apart from the "Samsung" ringtone, is Covid-19.
Also Read: Is Doctor Strange in the Multiverse of Madness Connected to What If…?
The series hovers around the pandemic and tries to show its impact on various sections of society. Although it limits to the middle class and the poor, maybe because of their marketability.
So, undoubtedly, Unpaused Naya Safar is a watchable affair. It grows with each episode, and you have already fallen in love with most of the stories by the time it ends.
Now, for those who want to have bit more details, without any spoilers, here is an episode-wise review of Unpaused: Naya Safar.
Episode 1: The Couple Review
Directed by Nupur Asthana, this is the only story having notable names in the lead. Shreya Dhanwanthary and Priyanshu Painyuli play a middle-class, modern couple. Both live through the thick and thin of married life, as any other couple does.
However, things turn a little off-color when Akriti (Shreya) loses her job randomly over a video conference. The reason, of course, is Covid 19.
The short story tries to portray how the couple deal with it. Their dreams come falling down since a city like Mumbai doesn't allow middle-class families with a sole breadwinner to achieve their aspirations.
When I finished watching, I was surprised that it was the opening episode. Usually, you would want to have a more engaging, hard-hitting, and powerful story as the curtain-raiser.
Nevertheless, I realized later they had no other option.
How is it?
It is a good watch but could have been better. In fact, it is the weakling of the series. Both the actors deliver a well-balanced performance, doing what was given to them. Maybe, the story could've had some more dimensions to it.
Episode 2: War Room Review
We have been living in Covid times for enough years now. What "War Room" means is quite understandable. Directed by Ayappa KM, it doesn't star any big name.
Lead actress Geetanjali Kulkarni teaches Math in a government school. Along with her other co-staffers, she is assigned the task of handling emergency calls asking for information like the availability of beds, ventilators, etc.
Everything goes fine until the day she receives a phone call from someone with whom she has a personal feud. This is the premise on which the story is based. Would she decide to help the caller for the bigger cause of humanity? Or would she prioritize the sin of the man and do a tit-for-tat?
The choice might seem easy, but it isn't.
How is it?
Better than the first one, in my opinion. More characters, a realistic setting, and the narrative give it the impetus to engage you.
The working conditions of teachers also show the harsh reality. Rainwater dripping from the ceiling, shortage of pens, and the burden of catering to every query are well put up.
Also Read: Dybbuk Review: Scary? No. Story? Yes.
Geetanjali Kulkarni is amazing, and so are the rest of the artists. The story is a good example of dilemma-induced emergency situations.
Episode 3: Teen Tigada Review
This is where the interest begins to develop. Starring Saqib Saleem, Ashish Verma, and Sam Mohan, Teen Tigada hits you deeply, unlike the first two. It is directed by Ruchir Arun.
Three thieves or looters capture a truck laden with material worth Rs. 60 Lakh. They reach the desired place to hand over the items to their boss and receive payment. Unfortunately, a lockdown is imposed due to Covid, and they have to extend their stay.
Each one of them has a different temperament. With limited food, they begin feeling the crunch of the sudden development. The extension of Lockdown aggravates things further.
How is it?
It is an engaging watch and keeps you hooked till the end. The chemistry between the three leads is excellent. Saqib Saleem is great, Ashish Verma is fantabulous, and Sam Mohan is brilliant.
Their bond is not unshakeable but still feels sturdy. They have trust issues and misunderstandings, but that's their strength as well. The personal backdrops boost the episode further and allow you to connect with the characters.
There is no need to skip, forward, or increase the speed of play. The episode is compelling enough to have your attention.
Episode 4: Gond Ke Laddoo Review
'Wow' is the word to describe "Gond Ke Laddoo". Directed by Shikha Makan, the story revolves around generosity and simplicity. It also doesn't have popular names and stars actors like Neena Kulkarni, Darshana Rajendran, and Lakshvir Singh Saran.
An old lady decides to make "Gond Ke Laddoo" for her daughter living miles away. Now, the problem is how would the delicacy reach her daughter? Being low on tech and smartphones, she finds it tough to search for an online service provider to ensure the safe delivery of her parcel.
Also Read: Human Series Hotstar: The Marvelous Supporting Cast of the Stellar Show
However, when she does find one, the delivery boy makes a mess, unfortunately. Will her daughter receive the Laddoos or not? Well, the answer brings a smile and leaves your eyes wet.
How is it?
It is brilliant. One can do nothing but adore the makers for the story's simple yet powerful application. The episode touches mildly on the work culture in logistic companies. It tries to depict why we should be courteous with delivery personnel without emphasizing the subject.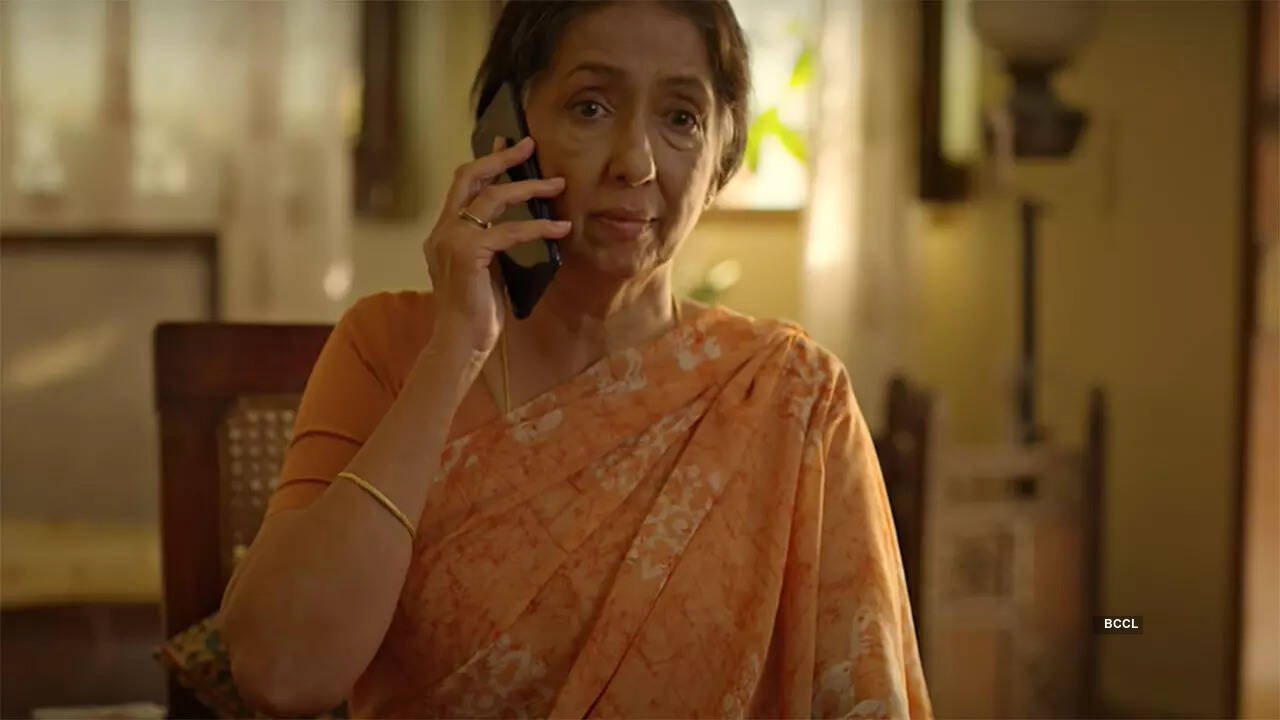 The performances are as sweet as the story. Lakshvir Singh excels in his act as a delivery boy. Neena Kulkarni has been an underrated actress for years, and she is lovely to watch on screen. Everyone else has done a commendable job.
But what wins the heart is the story. Undeniably, a treat to watch.
Episode 5: Vaikunth Review
This is a true example of "All's well that ends well". Vaikunth is directed by Nagraj Popatrao Manjule, and he doubles as the lead actor too. The story revolves around a Mortician, someone who works at the Crematorium, and his 9-year-old son's life during Covid.
With bodies piling up, people not even ready to cremate their loved ones fearing covid, and hospitals goofing up the names of the dead, Vikas finds it tough to balance his personal life with his work.
The story sheds light on several harsh realities of our times while delving into the life of a frontline essential services worker. Due to the nature of his job, he gets an ultimatum from his landlord to leave the house.
Meanwhile, his dad is in the hospital having tested Corona positive. Constant queries by his son about his grandfather's well-being make Vikas vulnerable. He starts living in fear of receiving his father amongst a bunch of unattended bodies.
Every siren of the ambulance brings uncertainty. What will be his fate?
How is it?
It is spellbinding. Great performances from the on-screen father-son duo win your heart. Touching on the life of someone working in the crematorium was necessary, and Nagraj has done it beautifully.
The episode is the most meaningful end to Unpaused: Naya Safar and leaves viewers craving for more.
Bottomline
Unpaused: Naya Safar demands patience at the beginning for an exciting ride later on. The first two episodes are a bit dicey; however, the rest are marvelous.