Dealing with the blazing sun during the months of May and June is the toughest task if you live in India. It sucks all the energy out of you while forcing you to stay inside your homes. But that's impossible. You've got to work to earn pennies.
What do you do then? Take the umbrella alongside: Check. Pack a water bottle: Check. Be sure to cover yourself to avoid tanning: Check. Apply sunscreen: Check. What else? We all have our ways of dealing with the oppressive heat. But there isn't a substitute for summer coolants.
By coolants, I mean the chilling drinks that help keep you cool and hydrated through the hustling day. So, here are the best summer drinks that you can prepare at home to beat the heat and feel refreshed in this sultry weather.
Lemonade (Shikanji)
What is summer without lemonade? It's sweet, sour, and appetizing at the same time. To prepare a lemonade, all you need to have is a half lemon, some sugar, and a glass of chilled water. Stir them together using a spoon, and voila! Your drink is ready.
Jaljeera Drink
I understand many of you don't like too much sweetness. And a Jaljeera drink is just enough to spice things up. Several households in rural India replace tea with Jaljeera during the evening to refresh themselves.
How to prepare the Jaljeera drink? Well, you will need two Tbsp of Jaljeera powder, a pinch of salt, a few drops of lemon, and, obviously, a glass of cold water.
Banana Shake
Usually, Lemonade and Jaljeera are enjoyed in the second half of the day because the heat is at a higher level during that time. For early starters, I have got the evergreen Banana Shake which is delicious, healthy, and easy to make.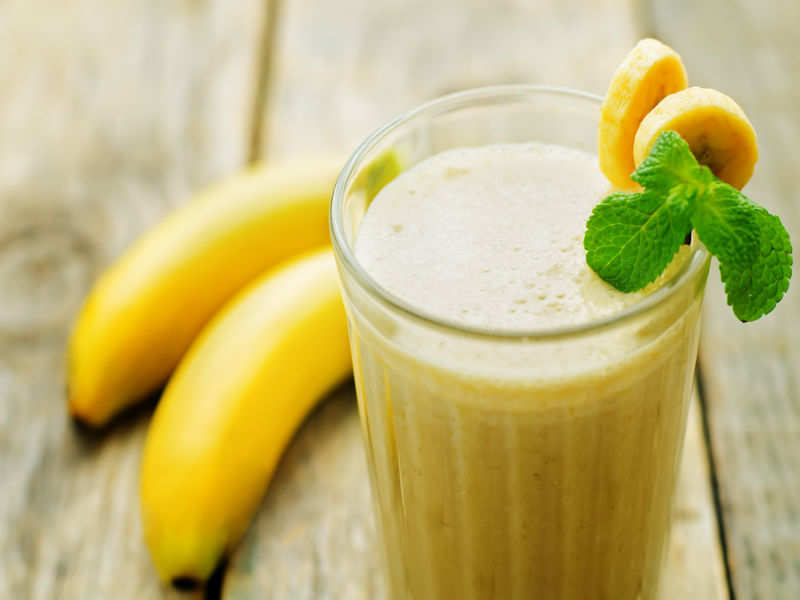 A glass of banana shake in the rising hours of the day is all you need to defeat the messy summers. Make sure you have two bananas, half a glass of cold milk & some sugar (if required) to make this healthy drink.
Next, take a mixer jar and blend the ingredients together. Add some ice cream on the top to make it even more delectable.
Muskmelon Shake
This is the most demanding drink in Indian markets during summers. The required ingredients include a glass of cold milk & some pieces of Muskmelon. Add sugar only if you want to. Mix them together in a mixer jar, and your Muskmelon shake is up and running.
To make it look fancy & taste delicious, you can top it up with your favorite ice cream, some dry fruits, and tutti frutti.
Buttermilk (Chaach)
If you have any digestion issues during summers, Buttermilk will offer you instant relief. Gather 3 tbsp of curd, some salt (black +normal salt), half tbsp of cumin powder, and a pinch of red chili powder.
Whisk them all for 30 seconds, and then add a glass of cold water. Since this drink has a water-like consistency, do not add a lot of curd when preparing just one glass of Buttermilk.
Sweet Buttermilk (Lassi)
As the name suggests, Sweet Buttermilk is the sweeter version of Buttermilk. It is one of the most consumed drinks in the state of Punjab. Moreover, the toothsome drink is amongst my all-time favorites.
You might ask, how to make sweet Buttermilk? Have half a glass of curd, some sugar & half a glass of cold water. Mix sugar and curd till the former dissolves entirely, and then add water. You can also add some drops of Roohafza (available in the market) to elevate the taste of this refreshing beverage.
Masala Sattu Drink
This is another drink for those who like tangy and peppery beverages. Take 2 tbsp of finely chopped onion, some nicely cut green chilies, 3 tbsp of Sattu (Powder made from roasted Bengal gram), half tbsp of cumin powder, salt as per taste, and a few pickle spices.
Plain Sattu Drink
Again, as the name suggests, this is a simpler version of the Masala Sattu drink. The ingredients you would need include three tbsp of Sattu (Powder made from roasted Bengal gram), salt as per taste, half tbsp of cumin powder, some drops of lemon & a full glass of cold water.
Once you blend them perfectly in a glass, a heavenly feeling of satisfaction awaits you.
Mango Shake
It would be an understatement if I call the mango shake one of my favorite drinks. That's because the entire India craves it. Moreover, it is the only reason I love summers. From the scintillating aroma to the superior taste, Mango Shake is a pleasure to enjoy.
To prepare for this pleasant drink, you need to have some pieces of fresh mangoes, milk, and sugar powder. Mix them well with the help of a Mixer jar & the shake is ready within minutes. Top it up with some ice cream & dry fruits.
Cold coffee
Even the most adamant tea lovers find it hard to consume on hot days. Don't worry, you can swap it with cold coffee. Take one tbsp of coffee, sugar, and some tbsp of milk. Whisk them till sugar gets dissolved completely.
Add a glass of chilled milk and some cocoa powder before mixing all the ingredients in a mixer jar for thirty seconds. Bingo! Your evening coffee is ready.
Final Word
While you wait for the rains to arrive, I hope to have given you enough options to overcome the intense heat. The best thing about these summer drinks is that they not only satiate your thirst but also offer a delicious taste.
Furthermore, I have tried hard to enlist all types of drinks. But I am pretty sure there are many others I might not be aware of. Please mention any suggestions you have in the comments box so that we can pass this summer season together.