Have you ever been fooled while watching a film or series? Ever have you silently uttered, 'Oh, crap! They buffooned me'? It happens when you are forced to have mounting expectations and then are bludgeoned by a meager delivery.
Just like you, I have also watched numerous thrilling and mysterious shows. Many fail to reap the benefits while others present a brilliant story. But the most hilarious are those that give a false impression.
After reviewing God's Favorite Idiot, an American series, I am now up with the review of an Indian show, Masoom, streaming on Hotstar.
Masoom Series Review Summary
What starts as an intriguing, thrilling, and mysterious tale ends up as a stale by-product. Masoom keeps you hooked but fails to deliver on the promises it makes in the beginning.
Masoom Series Synopsis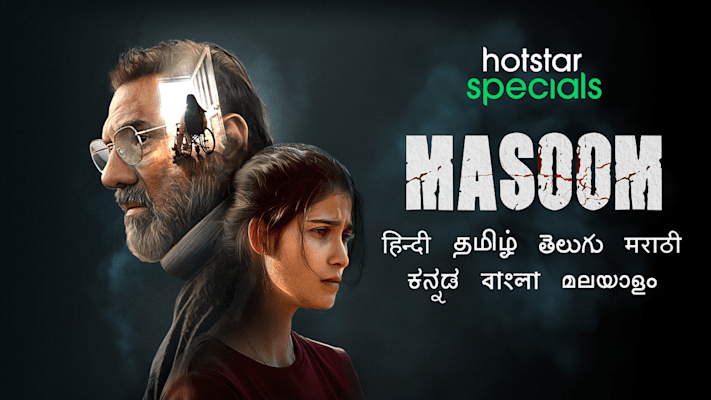 The sudden death of Sana's mother leaves her in shock and disbelief. After noticing suspicious activities, she decides to unravel the reasons that led to the fatal incident. Will she find the truth or not forms the crux of Masoom.
Streaming on Hotstar, Masoom is directed by Mihir Desai. It stars Boman Irani (Balraj Kapoor), Samara Tijori (Sana Kapoor), Upasana Singh (Gulwant Kapoor), Manjari Fadnnis (Sanjana Kapoor), and Veer Rajwant Singh (Sanjeev Kapoor) in lead roles.
Other prominent actors who play small parts in Masoom include Sarika Singh (Romi Kaul) and Manu Rishi Chadha (Inspector Ranjeet).
What Works for Masoom?
The Initial Thrill
What made me binge-watch Masoom in the first place was its fascinating beginning. The show smote me with a perplexing narration and mysterious buildup. It further aroused my expectations by introducing elements like a shady past, politics, murderous motives, etc.
Moreover, the chilling vibes and dastard characterization evoked a grueling sense of trepidation. Only if it could sustain these things for a longer duration could Masoom have become a superb series.
Mystery
If one thing that is consistent in Masoom, it is the element of mystery. The show ably carries enigma until the end to ensure the viewer has something to look up to. It initially sows several seeds of confusion and curiosity, which the series explores moving forward.
Performances
Masoom has some brilliant actors in its lineup. Some it deploys with full force, and some it wastes like rubble. Though Boman Irani is the most established artist in the cast, I must begin the analysis with Samara Tijori.
She plays Sana Kapoor in the show and has the baton in her hand. Samara is given the charge to uplift the plot, and the young actress doesn't disappoint. Her contained expressions, shaky intensity, and gritty appearance work wonders for Masoom.
There was never a moment where Samara seemed to lose the plot. Her subtle innocence will win you over, and her valiant attitude will force you to believe in the story.
Boman Irani, as Balraj Kapoor, is like a shadow that keeps Masoom safe from structural delusions. His stature in Indian cinema doesn't obliterate Balraj's character but elevates it. Additionally, Boman's silent fierceness keeps you on the edge of your seat.
You keep on guessing what he might do next and have opinions about his character, but that's the shrewdness of Boman Irani, the artist.
Upasana Singh as Gulwant Kapoor doesn't get to play a long part in Masoom. However, she beautifully delivers on all fronts, even during a small stint. Considered an artist made for comic roles, Upasana surprises you with an emotionally startling act.
Manjari Fadnnis and Veer Rajwant Singh do a credible job while playing siblings on the screen. They rise to the occasion and leave a profound impact on your memories through their performance.
A major issue I have with Masoom is the underutilization of Manu Rishi Chaddha. You must have seen him play humorous roles in several films, including Tanu Weds Manu, Dasvi, Pati Patni Aur Woh, among others.
I dearly wanted to see more of him in Masoom. The actor could have added wit and charm to the series, which it lacks.
Everyone else is terrific in the series and works toward making it better.
Emotionally Decent
Since Masoom is about the strings of an estranged family, it needed to ace emotions. And to a great extent, the show does come good on that front. The daughter-mother moments have been depicted well, and siblings are given decent time to rise up.
The last ten-fifteen minutes of the series are sure to capture your sensitive nerves. However, first, you will have to believe what the makers bring into the final episode.
Cinematography
Masoom earnestly encapsulates the scenic beauty of a small village. I am using the word 'earnestly' to emphasize the lack of opportunities the plot gave to enshrine photogenic moments.
Still, the makers have done a brilliant job by making space for several drool-worthy landscapes. A high-five to the people behind the camera.
What Doesn't Work for Masoom?
Disguised Appearance
The Hotstar series appears to be a thrilling and fascinating ride from the word go. It even sets benchmarks in the first three episodes by producing enough compelling moments. I was preparing myself to write a passage highlighting its distinct narration.
However, Masoom nosedives into a pit of laziness after the halfway mark. I can understand that every creator wants to tell a specific story, but the narration has to ameliorate with time. It needs to improve and not impair.
The plot suddenly changes from being a mystery thriller to a family drama. Instead, it should have been a blend of both.
Drags After a Good Start
As I mentioned earlier, Masoom starts off really well, but it soon suffers from an internal problem. The excitement eases, and calmness ensues after the initial bombardment. We had an out-and-out thriller at hand, which faltered due to a dud execution towards the end.
Even if the makers had different intentions, they could have begun throwing hints at an early point. Stuffing the entire summit into one flashback and stretching the climax work poorly for the series.
Strays From the Goal
The moment Masoom tries to be too good with a barrage of new elements, it loses the plot and ends nowhere. The show could have followed the already growing storyline and stuck with it.
Final Word
Masoom floors you with expectations but fails to come good on them. You can surely watch the series streaming on Hotstar; however, keep your enthusiasm down.
FAQs
Will there be Masoom Season 2?
Going by the ending of Masoom, it is very likely that the show will come back for another season. Nothing is official yet, though.