Have you been to the serene Tso Moriri lake in the Changthang Plateau of Ladakh? It is said to be the largest high-altitude lake in India.
From the breathtaking landscapes of Ladakh to the picturesque lakes of Sikkim, India is indeed incredible when it comes to exquisite travel destinations.
When we talk about traveling, it's always good to have a bucket list of all the exciting places we want to visit, especially before we turn 35.
However, if you're confused about the travel destinations you want to add to your bucket list, I've got you covered! 
Here are the 5 Best Places to Visit in India before you turn 35
1. Ladakh
Best experienced on a bike, Ladakh is full of clear blue skies, magnificent mountain passes, snow-capped peaks, picturesque lakes, unique wildlife, and secluded rivers.
Imagine riding your bike or driving your car amidst those barren mountains in the world's highest desert, enjoying the scenic views of the beautiful mountain ranges, and experiencing the magic of nature.
It is believed that Ladakh is one of the most mystical travel destinations that change how you look at life. It transforms your perspective and makes you fall in love with yourself! 
If you are someone who loves challenges and adventures, you must visit Ladakh before you turn 35!
Best Places to Visit in Ladakh 
Pangong Tso lake: The dream place of every nature lover
Khardung La: The highest motorable road in the world
Tso Moriri: The highest altitude lake in India
Chadar Trek in Zanskar valley: Imagine walking on a frozen river!
Additional Information
Best time to visit Ladakh: April to July
How many days are enough for Ladakh: 10-12 days
Min/Max Temperature: 15° C to 30° C
Budget for two: 50,000 approx
2. Gokarna
Have you traveled to Goa? If yes, did you like your experience? Well, if you liked Goa, believe me, you will fall in love with Gokarna.
Although not many people have heard about this scenic town in Karnataka, situated on the Arabian Sea, it is one of the best travel destinations in India. Gokarna is known for its pristine waters, alluring beaches, serene sunsets, and hiking activities.
Also popular as the town of golden beaches, Gokarna is the perfect tourist destination for those who are seeking both adventure and solace. The famous Om beach and Half Moon Beach in Gokarna are known for mesmerizing views and spiritual significance.
Furthermore, those who love doing adventure sports like surfing, scuba diving, snorkeling, parasailing, and jet skiing should definitely visit Gokarna for an enthralling experience!  
Best Places to Visit in Gokarna
Om Beach: A beach that resembles the symbol, Om. Don't miss this one.
Paradise or Full Moon Beach: It is 150 meters long and is primarily covered in hard rocks along with pristine white sand. Need I say more?
Trek across numerous beaches in Gokarna: How about some beach hopping?
Half Moon Beach: Beach camping under the stars
Additional Information
How many days are enough in Gokarna: 4 Days
Best time to visit Gokarna: October-February
Budget for two: 25,000 approx
3. Tirthan Valley
Are you someone who finds it thrilling to experience adventure sports like river crossing and river rafting in the turbulent rivers of Himachal Pradesh? Do you want to trek through the intriguing trails of a beautiful little hamlet surrounded by lush green forests?
If yes, you must visit the Tirthan Valley in Himachal Pradesh, the best tourist attraction for travelers worldwide.
The place is surrounded by astonishing waterfalls, hidden treks, breathtaking views, pristine Tirthan river, and mountain-side cafes. Situated in the Kullu District of Himachal Pradesh, it is surrounded by beautiful hamlets like Jibhi and magical lakes like Serlosar.
Additional Information
How many days are enough in Tirthan Valley: 5-10 Days
Best time to visit Tirthan Valley: April-September
Budget for two: 20,000
4. Bir Billing
Known as the Paragliding Capital of India, Bir Billing is a paradise for every adventure lover seeking an adrenaline rush. It is extremely popular amongst tourists and is famous for its exciting aerial sports.
Do you know that Bir Billing is known as Asia's second-best paragliding site?
From camping and stargazing to trekking and mountain biking, you can do many thrilling things in Bir Billing, including the world-famous Barot Valley trek.
Situated in the Nagar Valley of Himachal Pradesh, Bir Billing is a must-visit place before you turn 35!
Best Places to Visit in Bir Billing
Sunset point: Also known as the Landing Site in Bir, this place offers magnificent sunset views.
Gunehar River: A hidden gem in the secluded mountains!
Bangoru Waterfalls: For the trek lovers!
Additional Information
Best time to visit Bir Billing: Throughout the year. However, if you want to do paragliding, then visit between March-May.
Budget for two: 20-30k
How many days are enough in Bir: 3-4 days
5. Parvati Valley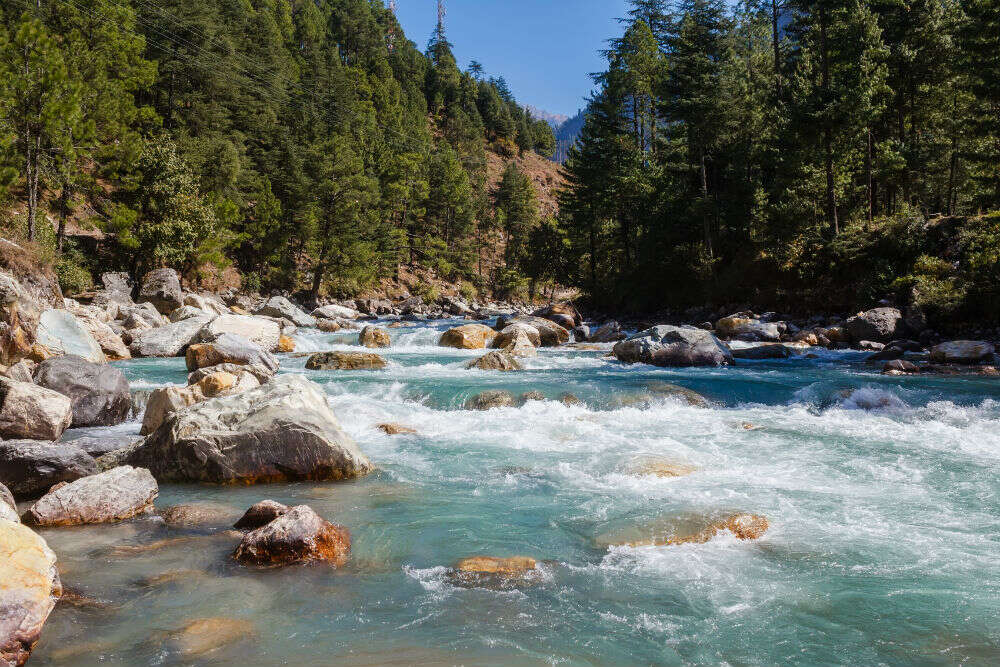 Located in the Kullu District of Himachal Pradesh, Parvati Valley is known for its adventurous treks, riverside cafes, scenic views of the Beas river, and music festivals.
Be it the hot water springs of Manikaran or the mesmerizing trail of the Kheer Ganga trek, this place attracts tourists from all over the globe.
When you visit Parvati Valley, you will find people from Israel, Russia, Ukraine, and many other countries. It is also famous for its delicious Israeli cuisines and local handicraft shops.
Moreover, the Parvati Valley is home to several scenic hidden villages like Tosh, Pulga, Kalga, Malana, etc., which are literally every traveler's paradise.
You can plan a trip with your friends to Parvati Valley on a budget and experience the hippie lifestyle, attend trance music festivals, observe the local culture, and take a breath in the fresh air amid dense forests and snow-capped mountains.
Parvati Valley is one of the best places to visit in India before you turn 35. 
Best Places to Visit in Parvati Valley 
Kasol: It is a beautiful little hamlet on the banks of the mesmerizing Parvati river. Visit this place for the fantastic cafes like Evergreen and Little Italy. You can also take the Chalal trek for some scenic views!
Tosh: A secluded Himalayan village that is known for its hippie cafes and breathtaking views
Malana: Go there for the trance parties
Kheerganga: One of the best Himalayan treks
Additional Information
Best time to visit Parvati Valley: Throughout the year
How many days are enough for Parvati Valley: 5-7 days
Budget for two: 20,000
Why is it Important to Travel When Young?
Although when it comes to traveling, age does not matter. One can travel at any time and age because it is vital for a healthy mind and body. However, we must understand that some joys are best experienced when you are young.
Visiting places like Gokarna, Ladakh, or Jibhi is something everyone should do in their 20s and early 30s. That is when your young mind needs these adventures to feel liberated. You should see these places before turning 35, so you can understand yourself better.
Also, if you haven't made your dream travel bucket list yet, now is the time!
Enjoy reading? Subscribe to the Word Street Journal using the banner below and stay updated.