The boxing world has gotten off to a flying start this year. With several of the boxing top players already scheduled to return to the ring in the coming months, things will only get better as the season progresses.
Top fighters such as Roman "Chocolatito" Gonzalez and Keith Thurman showed that they would not slow down anytime soon. Also, some new champions, such as Mark Magsayo, saw a rise in fortune.
Also Read: 10 Boxing Tips and Tricks for Beginners
Now, superstars such as Errol Spence JrGervonta Davis, Tyson Fury, Jermall Charlo, and, of course, Canelo Alvarez are all poised to make their comebacks to present an unforgettable experience for the boxing fans.
Boxing matches are always fun, but to enjoy them to the fullest, you must know about the significant upcoming events most awaited by the real boxing enthusiasts across the globe.
Let's check out the most hyped upcoming boxing fights in 2022 that you must mark on your calendar and watch for the pure thrill.
Ryan Garcia Vs. Emmanuel Tagoe-April 9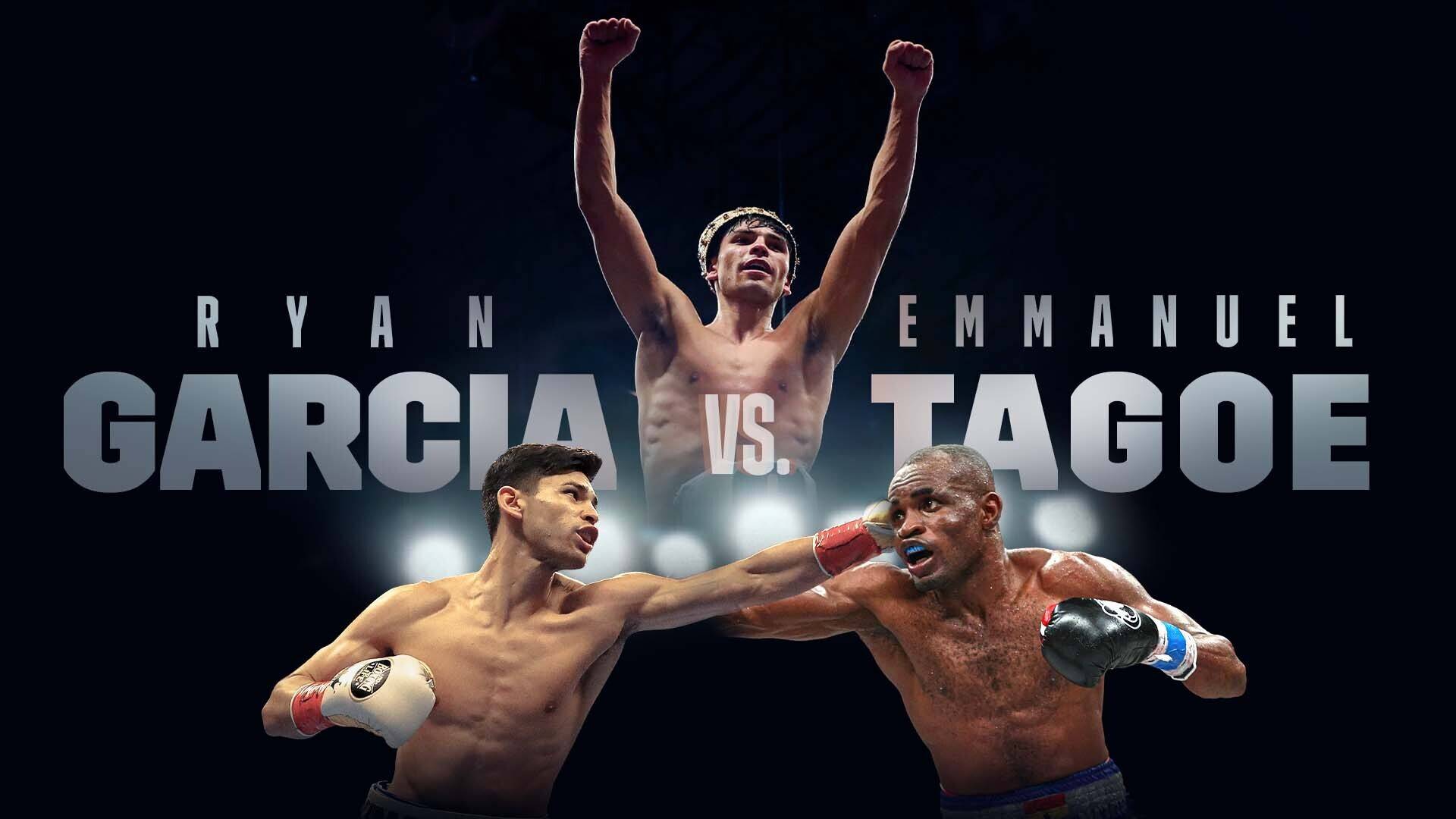 Ryan "King Ry" Garcia (21-0, 18 KOs) will make his comeback to the ring against Emmanuel "The Gameboy" Tagoe. Garcia is undefeated in his professional career (32-1, 15 KOs). Therefore, watching this match out of all the upcoming boxing fights will be exciting.
There will be a 12-round lightweight clash at San Antonio's famous Alamodome arena. It will be aired live across the world for all fans and boxing enthusiasts.
Garcia is a skillful and lightning-fast young boxer who has slowly risen through the ranks of the lightweight category. His fans are awaiting Garcia's return to the ring for quite some time.
He would rise to the higher position in the division with a convincing win over Tagoe, a top-10 candidate in the category.
Ghanaian Emmanuel "The Gameboy" Tagoe made his professional debut in 2004. He has amassed a slew of championships, including the International Boxing Federation (IBF), the World Boxing Association (WBA), and the World Boxing Organization (WBO).
Also Read: Top Lesser Known Boxing Techniques You Must Learn
The 32-year-old is presently ranked #10 by the World Boxing Council in the lightweight category, having advanced through the division's ranks after entering the lightweight category of professional boxing.
In 2013, Tagoe won the match against Gerardo Robles in the ninth round with a classic knockout punch. His most recent fight took place on November 27, 2020, where he faced former WBO NABO champion Mason Menard in a 10-round lightweight match.
Tagoe won by unanimous decision with scores of 98-82, 97-73, and 95-95, beating Menard.
Tyson Fury vs. Dillian Whyte -April 3
After defeating Deontay Wilder once more in Las Vegas in October, Tyson retained his WBC heavyweight title with a dazzling performance.
That puts him in a position to share the arena with Whyte, who sought to provoke his fellow Britishmen into accepting a fight on Instagram before the contest was formally confirmed by their respective managers.
Dillian Whyte, also known as 'The Gypsy King', is another beast of the ring who takes no time in putting the opponent on the canvas. Given his intermittent fighting history, the battle is far from a predetermined outcome, especially for the Fury fans.
Considering Fury's recent comments, it could be possible that this bout may be his final one. The 33-year-old boxer may say goodbye to the game with a dynamic performance. Doesn't that make this upcoming boxing fight a battle to crave for.
Errol Spence Jr. vs. Yordenis Ugas -April 16
Errol "The Truth" Spence Jr. and Yordenis Ugas will fight for the WBC and IBF welterweight titles on Saturday, April 16, live from AT&T Stadium in Arlington, Texas, in a Premier Boxing Champions event.
Spence is currently holding the WBC and IBF welterweight champion title, and he will defend these titles against Ugas in this most anticipated fight.
Ugas had amazed everyone in his last fight with a fantastic victory over famous eight-division world champion, Manny Pacquiao.
Following the renowned win, Ugas definitely wishes to continue his impressive run through the division by adding more wins to his record of 12 of his past 13 fights since 2016.
Also Read: The 11 Greatest Boxers of All Time
Spence can win the battle, and I believe he will, considering Ugas has some weak points that he can leverage to make a one-sided triumph. Besides, Ugas is already 35 years old, and in his previous matches, he was seen out of breath a couple of times.
But if we listen to the Ugas' fans, he surprised everybody when he defeated Manny Pacquiao despite his inexperience and earned a Bronze Medal (at Lightweight/132 lbs) in the 2008 Olympic Games in Beijing.
I will definitely enjoy this fight, and I admit that I am a fan of Spence (the boxer/athlete, rather than the man himself); therefore, I hope he wins.
Shakur Stevenson vs. Oscar Valde- April 30
Having competed in the Olympics in 2008 and 2012, Valdez (30-0, 23 KOs) is closing up on a decade of undefeated professional boxing.
He boasts a perfect 9-0 record in world championship bouts. Oscar has cemented his reputation as one of Mexico's most skilled ring warriors.
Fans consider his featherweight championship defenses against Miguel Marriaga and Genesis Servania in 2017 the most amazing fights of the year.
After seven rounds of fighting with a fractured jaw in March 2018 against Scott Quigg, he came victorious.
In 2019, Stevenson (17-0, 9 KOs) of Newark, New Jersey, defeated Joet Gonzalez to win the vacant WBO featherweight world title, which had been vacant since Valdez abandoned the belt to fight at junior lightweight in 2018.
After beating Gonzalez, Stevenson stepped up in weight and won three fights before taking on WBO junior lightweight world champion Jamel "Semper Fi" Herring in Atlanta last October, which he won.
Stevenson defeated Herring in the tenth round to become the first man to hold two world titles in the same weight class.
Known as the notorious boxer of the United States amateur boxing circuit, Stevenson has been tipped for superstardom ever since making his professional debut in April 2017.
Throughout 17 professional fights, he has shown a defensive enigma that opponents have been unable to decipher. It is surely amongst the most awaited upcoming boxing fights.
Canelo Alvarez vs. Dmitry Bivol -May 7
Canelo Alvarez will come back to the arena in May to challenge Dimitry Bivol for the WBA light heavyweight championship. The bout will take place in the Philippines, where both legendary boxers will come face to face.
Even though Canelo is the undefeated super middleweight champion, he will drop to 175 pounds for this bout.
When Bivol battled Umar Salamov in December, he appeared in good shape. He kept his championship and improved his record to 19-0.
However, the 19-month idle period he experienced between 2019 and 2021 seems to have no effect on his morale or confidence.
Boxing enthusiasts are familiar with his name, but casual viewers who could tune in for huge Alvarez matches might not feel likewise.
He's not really an outspoken individual, but when it comes to deciding on the next major fight, you have to consider all of the factors.
Well, these upcoming boxing fights are the ones that I am keeping my eye on and also excited about the outcomes. You can also watch these matches online for free after finding the right streaming websites.